Venous Leg Ulcers
Symptoms include pain, itching and swelling in the affected leg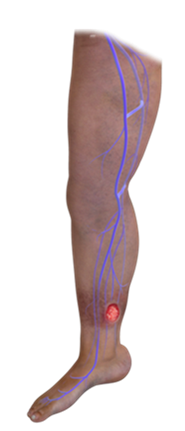 A venous leg ulcer is the most common type of leg ulcer, accounting for more than 90% of all cases.
Venous leg ulcers can develop after a minor injury, where persistently high pressure in the veins of the legs has damaged the skin. This constant high pressure can gradually damage the tiny blood vessels in your skin and make it fragile. As a result, your skin can easily break and form an ulcer after a knock or scratch.
A venous skin ulcer is usually very slow to heal, usually because of weak blood circulation in the limb. They can last anywhere from a few weeks to years. If left untreated, they can often lead to a more serious form of venous disease called chronic venous insufficiency (CVI).
Chronic Venous Insufficiency
If CVI is left untreated, legs can sometimes develop painful sores or wounds on the skin's surface called ulcers. Normally ulcers appear near the ankles or lower leg and are brought on from the increased build-up of fluid and blood pressure from veins affected by CVI.
SYMPTOMS
There are many factors that can increase risk of venous leg ulcer. Some factors include:
swollen ankles (oedema)
discoloration and darkening of the skin around the ulcer
hardened skin around the ulcer, which may make your leg feel hard
a heavy feeling in your legs
aching or swelling in your legs
red, flaky, scaly and itchy skin on your legs (varicose eczema)
swollen and enlarged veins on your legs (varicose veins)
an unpleasant and foul-smelling discharge from the ulcer
MOST AT RISK
There are many factors that can increase risk of venous leg ulcer. Some factors include:
Obesity
Previous deep vein thrombosis (DVT), or blood clots
Previous injury to leg
increasing age
YOU ARE NOT ALONE
CVI and venous leg ulcers are more common than you think
More than 190 million people around  suffer from CVI.
More than 1 million people in the U.S. suffer from venous leg ulcers.
70-90% of all ulcers below the knee are venous (caused by diseased veins).
More than half of venous ulcers treated are recurrent ulcerations
Due to pain, mobility limitations and other consequences, venous leg ulcers have been associated with increased rates of depression and substantial decreases in patient quality of life
EARLIER TREATMENT LEADS TO BETTER OUTCOMES
Don't wait to find treatment for your venous leg ulcers
A recent study showed that patients who received early vein closure treatment along with compression stocking therapy for venous leg ulcers experienced:
Significantly shorter time to healing
Extended time free from ulcers
Information on this site should not be used as a substitute for talking with your doctor. Always talk with your doctor about diagnosis and treatment information.