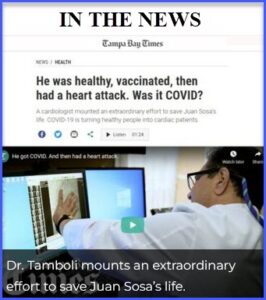 Dr. Hoshedar Tamboli, one of the Tampa Bay's most accomplished and renowned cardiologists, is now welcoming patients to his three new locations in the Tampa Bay region.
Pioneered peripheral arterial interventions in Cardiac Catheterization Labs in Tampa
For the last 28 years, he has served the community by practicing excellence in caring for his patients and treating their heart, vascular and vein conditions with cutting edge therapies.
Since his arrival in Tampa in 1992, he has performed many pioneering, first of their kind cardiovascular procedures in the  area and has been a  principal investigator or co-investigator in 105 clinical trials. He is sought out regionally for his diagnostic acumen, his procedural skills and his total dedication to patient care.
Serving Tampa Bay for 28 Years
He has offices in Brandon, Riverview and Sun City Center to serve you in a private practice setting. In addition he will also take care of his patients at Brandon Regional Hospital, South Bay Hospital , St Joseph's South , Tampa General Hospital and Advent Hospital.
If you or your family have a cardiac or vascular problem, he and his staff promise to do their very best in providing you their very best in genuine and compassionate  state of the art care, both medical and procedural.
He promises to continue living up to his motto of "Patient First Always"
Call 813-755-3500 today to make an appointment.
Placed the first heart stent in Tampa in 1993. Placed the first medicated stent in 2003
National Proctor teaching cardiologists to place stents.
Pioneered peripheral arterial intervention in cardiac Catheterization Labs in Tampa.
Procedure firsts in Tampa include coronary brachytherapy, peripheral atherectomy and others.
Past Chairman of Cardiology at Advent Hospital and Brandon Regional Hospital
Following are some of the services we provide to our patients
OFFICE SERVICES
HOSPITAL SERVICES
These services can generally be provided in our offices.
Echocardiography, ultrasound of the heart
Comprehensive consultation for the heart, arteries, and veins
Vascular Ultrasound including carotid, aneurysm detection and monitoring, kidneys, and legs
Vein studies of the legs for swelling, varicosities, and spider veins
Regular exercise stress tests for chest pain and coronary disease
Nuclear stress tests both treadmill and chemical for chest pain and coronary disease
Rhythm monitoring for palpitations, skipped beats and passing out.
Pacemaker and Defibrillator monitoring
Vein Suite for venous ablation for swollen legs, varicose vein removal and injection sclerotherapy of spider veins.
ECP therapy for unfixable heart artery blockages
Loop recorders for unexplained fainting, palpitations and possible Afib.
These services are provided in many of our Tampa Bay partner hospitals
Comprehensive Cardiology Consultation in the ER, ICU and regular floors.
Heart catheterization from the groin or the wrist
Complex coronary intervention including stenting, opening blockages with drills and lasers
High risk coronary stenting with Impella
Stenting and drilling blockages open in the legs
Venography of the legs and stenting vein blockages
Angiography of the carotid arteries of the neck and arteries of the brain
Angiography and stenting of kidney arteries
Closure of ASD and PFO" - Hole in the Heart"
Aortography to check for aortic aneurysm and stenting of the same
Interpretation of heart ultrasounds, performance and interpretation of nuclear stress tests
Transesophageal echocardiography to better assess cardiac structures
Tilt Testing for fainting