What is an Unexplained Stroke?
Understanding Unexplained Stroke May Require Monitoring
UNEXPLAINED (CRYPTOGENIC) STROKE
A stroke happens when a blood vessel in the brain is suddenly blocked or bursts, resulting in damage to the brain tissue.
The majority of all strokes are ischemic, which means they occur as a result of an obstruction, such as a blood clot, within the blood vessel. This blockage prevents or greatly reduces the delivery of oxygen and essential nutrients to the brain.
In some cases, despite testing during the hospital stay, the cause of a stroke cannot be determined. This is what is known as a "cryptogenic" stroke or a stroke of unknown cause. It's estimated that 25-30% of ischemic strokes are cryptogenic or unexplained.
Atrial fibrillation (AFib) is a major risk factor for stroke. It's a common condition in which the upper chambers of the heart beat very fast and irregularly. As a result, blood is not pumped effectively to the rest of the body and may pool and clot. If a clot dislodges, it can travel to the brain and result in a stroke. People with AFib are five times more likely to have a stroke.
Having a stroke means you are at greater risk for having another (recurrent) stroke. At least 1 in 4 Americans who have a stroke will have another stroke within their lifetime. Determining the cause of your stroke will help your physician take steps to minimize the risk of having a recurrent stroke.
WHAT COULD BE THE CAUSE OF A CRYPTOGENIC STROKE?
Atrial fibrillation (AFib) increases the risk of stroke more than 5 times but it often goes undetected since it can happen infrequently or without symptoms.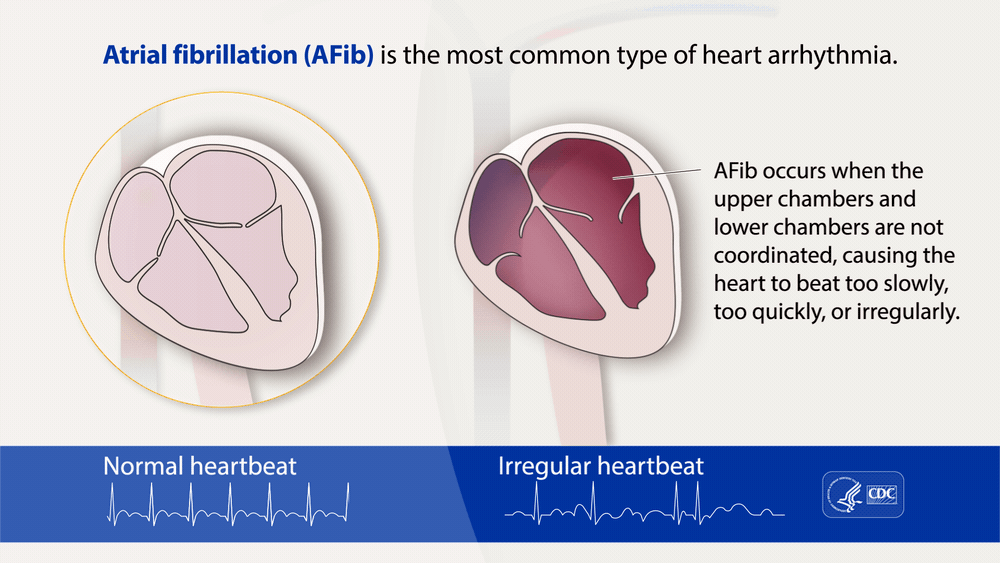 Credit: Atrial Fibrillation animation courtesy of the CDC
WHAT HAPPENS WHEN I EXPERIENCE ATRIAL FIBRILLATION?
SYMPTOMS
Thumping or pounding heartbeats
A feeling that the heart is racing
Chest discomfort
Fainting or light-headedness
Fatigue, shortness of breath or weakness
However, some people have no symptoms and discover that they have AFib at a doctor's appointment.
MANAGEABLE RISK FACTORS
Some risk factors that contribute to AFib can be controlled or modified, like managing high blood pressure and reducing alcohol consumption. Controllable risk factors include:
High cholesterol
High blood pressure
Heart disease
Smoking
Excess weight
Metabolic syndrome
Stress
Alcohol abuse
Lack of exercise
Some medications
Sleep apnea
Thyroid disorders
NON-CONTROLLABLE RISK FACTORS
Family history
Advancing age
Heart disorders from birth
Gender — males have a higher incidence of AFib
For more information please review the patient brochure below:
HEART MONITORING CAN UNLOCK THE ANSWER
If the cause of your stroke is unknown (cryptogenic), heart monitoring may be necessary to help determine if atrial fibrillation (AFib) is a factor.
You may be asked to wear a portable heart monitor for several days to try to identify AFib but, in some cases, a longer-term option may be needed. A recent study showed that for many cryptogenic stroke patients, it could take more than 80 days for AFib to appear because the episodes happen infrequently, often without symptoms.4
With continuous, long-term monitoring, your doctor can get information about your heart to help make a diagnosis and find the right answer for you.
Learn More About Heart Monitoring
Information on this site should not be used as a substitute for talking with your doctor. Always talk with your doctor about diagnosis and treatment information.